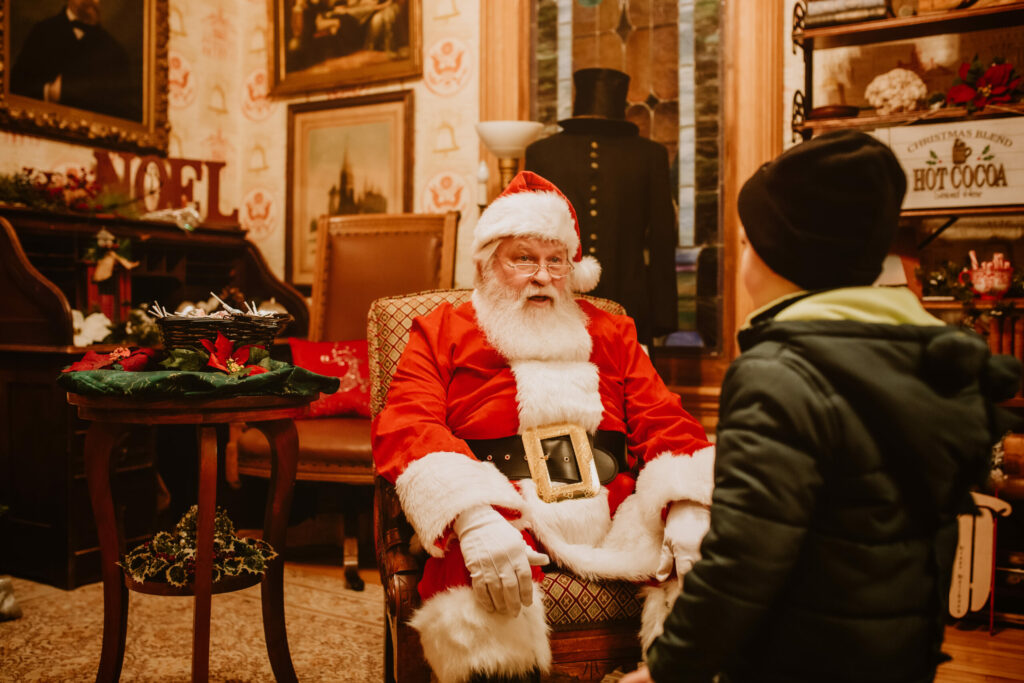 The Holidays are the perfect time to visit Owatonna, with all its charm and traditions like the Downtown Holiday Parade! We've pulled out all the stops to make certain there is no other place to be during the Holiday season.  So, make the most of all that the season offers with these spirited events.
Shop SMALL ~ SHOP Local
Owatonna has a number of local shops to help you tick off that holiday shopping list. Let a real person do a happy dance when you shop locally, and never be outdone when it comes to original, cool gift buying. You'll be sure to find the perfect gift whether your looking for exquisite hand-rolled chocolate candies from Costas Candies or this year's hottest holiday decor trend – A Santa Gnomes from Sterling Home, Country Goods and many more stores downtown.  Looking for that perfect shacket for your bestie or even yourself?  Check out all the unique clothing boutiques like Urban Loft, Graif Clothing and Hidden Rose here in downtown Owatonna.  Once you've ticked off your holiday shopping list, grab a coffee or hot chocoate at OTB Cafe and stroll through Central Park to look at the new Holiday Lights!
Lighted Holiday Parade IS BACK!
Thursday After Thanksgiving
This unique parade is the official launch to holidays which encompasses holiday events around town between the Thrusday after Thanksgiving to that same Sunday. Since the beginning of this Owatonna tradition. From firetrucks to bicycles, there are always surprises at this family tradition-worthy parade. The excitement continues after the parade as the switch to light up the trees in the park is flipped, the Owatonna High School Carolers perform and cider and hot chocolate is passed out freely to all who come. Nothing says "Welcome" to the holiday season quite like this beloved town tradition.
Christmas In the Village
December 3rd – December 4th
This beloved event seems to get better and better every year! Hosted by the Steele County Historical Society, Christmas in the Village is located in the Village of Yesteryear, which is completely transformed for the holidays. Live music will be heard from the church, the historical Dunnell House and in the History Center. Kids can enjoy many festive crafts including Graham Cracker Houses and Hot Cocoa Gift Kits. As you walk around the village, you may run into the King and Queen of Sweets, Mrs. Claus, or even Santa himself! Decorate your cookie (this isn't just for the kids), go on a horse-drawn carriage ride and don't forget to head to the History Center to check out many more activities! Bundle up with some friends, or bundle up the kiddos- this event will have everyone glowing with holiday cheer by the end.
Visit SANTA's Wonderland
Nov 6 – Dec 24th
Get in the holiday spirit with Santa's Wonderland and Santa Pictures at Cabela's in Owatonna, MN this Christmas season!! The tradition continues this year with safety procedures in place to help you stay healthy for the holidays, without giving up your seasonal traditions, like photos with Santa.
You and your family will enjoy a magical and reimagined contactless FREE Santa experience again in 2021. Santa will be available for free photos from November 6 – December 24, 2021.
Reservations are required for 2021! The Santa visit will be contactless. There will be a a glare-free plexiglass barrier between your children and Santa. The surfaces are cleaned in between visits. Please be prepared to follow any local or store health and safety guidelines/recommendations
EVERY CHRISTMAS STORY EVER TOLD (AND THEM SOME)
December 3-5 & 10-12, 2021
Who doesn't love a good Christmas story? In fact, who doesn't love every good Christmas story?  Instead of performing Charles Dickens' beloved holiday classic for the umpteenth time, three actors decide to perform every Christmas story ever told — plus Christmas traditions from around the world, seasonal icons from ancient times to topical pop-culture, and every carol ever sung.
Every Christmas Story Every Told (And them some) plays through December 12, 2021 at Little Theatre of Owatonna is located at  560A Dunnell Drive in Owatonna, MN. – For tickets, call the box office at  (507) 451-0764, or purchase them online HERE