A winter getaway full of adventures is waiting just 1 hour south of the Twin Cities. Owatonna sees plenty of visitors during its snowy season.
From cross-country skiing, to snow biking, to skating on a frozen river, here are some of the top things to do in winter in Owatonna, Minnesota.
Ice Skating
Grab your skates and head over to the frozen Straight River. The 55-mile river snakes its way into Owatonna, and once it is frozen over, this natural-made ice rink becomes a magnet for seasoned and amateur skaters. The Straight River was highlighted in Explore Minnesota's picks for outdoor rinks across the state. If you don't own a pair of skates, you can rent them from the Warsinksi Chalet at Morehouse Park near downtown Owatonna. The Warsinksi rinks are the only supervised rinks in Owatonna. After an afternoon of skating, take your family to warm up next to the fire hosted at Morehouse Park on Saturday nights starting around 5:30pm.
Head over to the Steele County Four Seasons Centre where visitors can join in or watch hockey games, live figure skating and regular ice skating. With two massive indoor ice-skating rinks are available to the public. No wonder it has been an entertainment hot spot for both locals and visitors since 1972. You can check with the center' seasonal calendar for open public skate and hockey times.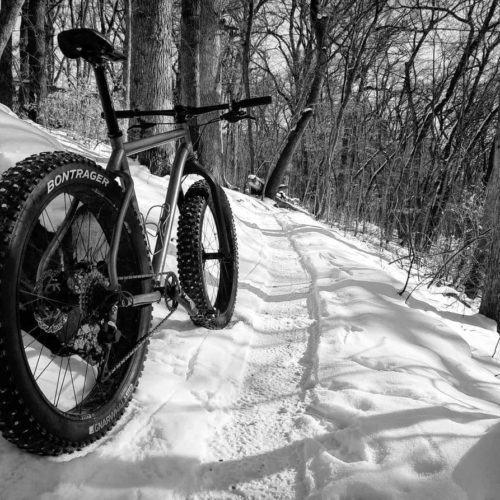 Fat biking
You don't have to wait till the ground thaws to engage in your favorite two-wheel activity. Fat biking is a new winter activity in Owatonna where cyclists can rent a fat tire bike that's designed to ride smoothly on snow. The large low pressured tire lets you get back outdoors and being active during the snowy winter months. Rentals can be made at Straight River Sports, and cyclists can join a one-of-a-kind scenic ride through the snowy wonderland on the Kaplan's Woods mountain bike trail.
ski and snowshoe
Owatonna's skiing accommodations attracts visitors each winter from mid-December to mid-February. The area specializes in cross-country skiing with its large swaths of trails to explore. Experienced skiers join relative newbies on a popular 11-mile trek through the snowy wilderness from Morehouse Park south to Kaplan's Woods Parkway. Cross-country skis can be rented at Morehouse Park and those who want to keep going can trek another 10 miles from Kaplan's Woods to the Country Club Golf Course and Brooktree Golf Course.
Another popular wintertime activity in Owatonna is snowshoeing, which was a means to navigate the snow for hunting and trading long ago. Rice Lake State Park is a popular destination for this wintertime activity There you can rent snowshoes and hike around the 750-acre snow-covered park which, historically, was used as a wild rice harvesting area by Native Americans.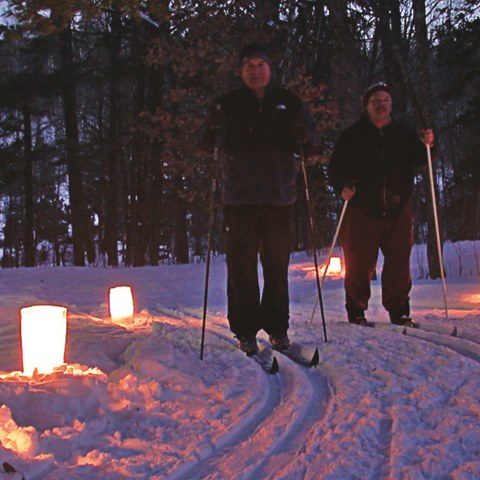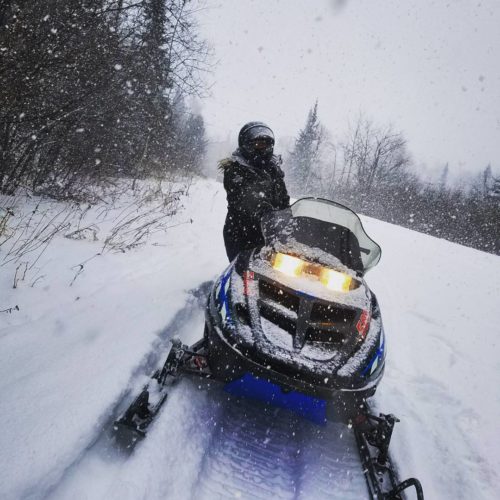 snowmobile
If your family is looking for a little more adventure and speed, consider snowmobiling. Rice Lake State Park and Steele County Trail System are popular locations for snowmobiling. Steele County Trail System is a 175-mile route of groomed snowmobile trails that connects five adjoining counties. Gain a new perspective and appreciation for the beauty of Minnesota's winter wonderland on the seat of a snowmobile.
Ice Fishing
Head over to Lake Kohlmier or Lake Chase for traditional winter ice fishing. If you've never tried it, ice fishing is pretty much what it sounds like: dropping a fishing line through an opening on a frozen lake to try and nab bluegills, crappies or bass that swim below. Stop by Cabela's to get any gear you might need for a day on the lake, including hand warmers. Ice fishing on Lake Kohlmier and Lake Chase is a fun way for a family to spend an afternoon together.
Winter Festival
Attend events and activities that are designed to highlight the Minnesota psyche of "cold noses and warm hearts!" Owatonna's Winter Festival, Bold & Cold is a week-long winter celebration starting January 19-27. The festival features a week full of activities for the young and the young-at-heart. Activities include a medallion hunt, a candlelight cross country ski, hockey tournament, ice sculpture contest, Crazy Days shopping event and much, much more!